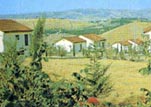 Tour in the North
Natural Sites and Outdoor Places

FOREST TOURIST CASINO & WATERFALLS CHALETS
A first class spot in the northern corner of the Hadba model forest, on the left bank of the Tigris. Up-to-date equipment; food and drinks; eastern and western music. The casino also provides food to the tourist chalets nearby. There are 35 chalets designed for 4 or 2 persons, equipped with kitchens and bathrooms, and very well furnished. They have heating, cooling, refrigerators, telephones and TV sets.


LAKE OF MOUSUL DAM
A delightful lake suitable for all water sports, and fishing. It is equipped with all tourist facilities.

ZAWITA
17 kms. Away from Duhok, 90 kms from Mosul, 885 meters above sea level, with a maximum temperature of 38 C. Zawita is distinguished for its pine-forests; its extensive shady spots make it particularly attractive in the summer. Its afforesting probably goes back to Assyrian times. Its name is Aramaic, meaning "corner". Somewhere nearby is a wide clef in the mountain called Gully Zawita. There is a well-furnished rest house in Zawita.


SUARA TUGA
22 kms from Zawita, 112 kms from Mosul, 1507 meters above sea level, with maximum temperature of 33 C., it is one of the best-situated summer resorts in the North. It overlooks a deep valley, with higher mountains on either side which seem to give the place a perfect climate, as good as that of any summer resort in the world, with poplars, cypress trees and a variety of summer fruit-trees. There is a large up-to-date hotel, together with modern casino, in the middle of gardens which give on to two plains, Bamarny and Suara Tuga, between which rises the Suara Tuga chain of mountains. There are also a number of tourist cabins of different sizes, all well furnished.


ASHAWA

Just about 5 kms before you get to Sarsang you will come across Ashawa, a lovely summer resort famed for its waterfall. There is a beautiful restaurant, together with some local shops.


SARSANG

Upon leaving Suara Tuga the road descends east until, a few kilometers away, it hits Bamarny, then Sikreen, famed for its water and vineyards. Some distance away is Sarsang (126 kms. From Mosul), one of the most appealing summer resorts in Iraq. It rises 1,046 meters above sea level, with maximum temperature of 34 C. A lovely climate, cold water cascading from mountain springs, forests of cypress trees and poplars, a diversity of fruit trees in endless orchards, await the visitor to Sarsang, where there are several hotels, chalets, casinos and a night club. Throughout the area there are restaurants, super markets, playgrounds for children an open air cinema, a roving theatre, let alone the popular cafes and consumer shops, post office and a bank.


ANSHKI

On the way to Amadiya, 15 kms. From Sarsang, you will find Anashki in a lovely spot overlooking the plains of Sarsang. Anashki is noted for its cool climate and tumbling waterfalls, which run through the casinos and eating places of the village.


ARADEN
Close to Anashki. This resort has a healthy climate, plentiful waters, and beautiful nature, all at a height of 1400 meters above sea level, 144 kms. Away from Mosul.


SULAF

In a beautiful valley in the mountains, 5 kms. Before Amadiya, is Sulaf. 115o meters above sea level, with gorgeous waterfalls, one of which cascades from a height of 25 meters. Sulfa is noted for its plentiful fruit trees and large number of its natural caves- notably Al-safa cave, heavily shaded by walnut trees.
There are a number of privately owned restaurants and hotels




AMADIYA ANTIQUE CASTLE
Perched on top of a mountain 1400 meters above sea level, this impregnable castle played a prominent role in the ancient history of Iraq. It is elliptical in shape, founded on a large rock, which is in one piece, surrounded by mountaintops. It has two gates, Zebar gate- leading to Zebar region and Mosul gate- leading to Mosul. On the latter gate images are graved portraying warriors with spears, swords and shields; under their feet is a great snake, which unwinds itself all the way up the gate's arch. The castle was called after Imaduddin Zangi, who built it in 537 Hijra. It is about 90 kms away from the governorate center, and the road to it is asphalted and in good condition.

SARCHINAR
5 kms. This summer resort lies amidst tall trees and flowing waters. There are several tourist houses, hotels and casinos.


DOKAN LAKE

71 kms. from Sulaimaniya, 141 kms. from Kirkuk. A large beautiful blue lake, with a rest house and a number of restaurants and cafes.


DERBANDIKHAN LAKE
65 kms. From Sulaimaniya, 26668 kms. From Baghdad. Excellent for boating, with tourist facilities.


AHMAD AWA
a delightful mountain resort accessible by a paved road 75 kms. Long off sulaimaniya.

SALAHUDDIN
Built on Mount Pirmam, overlooking the plain which stretches as far as Arbil on the one hand, and Mount Safin on the other, it is 32 kms away from Arbil. 1090 meters above sea level. Maximum temperature in the summer: 36 C. One of the loveliest spots in the country with its cypress and oak trees. Tourist facilities are:
- Tourist village, a group of 39 houses (200 beds).
- Salahudin Hotel: a first class hotel with a large lounge and a large dining room, in the middle of extensive gardens.
- Salahudin Restaurant.
- Tourist sports hall.


SARA RUSH
The nearest resort to Salahudin, only 9 kms away on a well-built road, where temperature is 5-8degrees lower than in Salahudin. It has several touristic installations, such as:
- Sara Rush hotel.
- Mada'in Tourist village.
- Chalet UR 216 BEDS, Chalets Sulaf 180 beds, and Chalets Hatra 588 beds.
- Residential apartments.
- A hall & a restaurant.
Sara rush has also a supermarket, a folklore shop, children's playgrounds, excursion gardens, etc.


SHAQLAWA
Some 18 kms away from Salahudin, this summer resort lies on a slope of Mount Safin at 966 Meters above sea level, with a maximum temperature of 35 C. A place of great scenic beauty with many mountain tops around it, and rich in orchards; walnuts, almonds, pomegranates, grapes, apples, pears, all grow in profusion here, together with endless poplars and cypresses. Here is shade that indeed spreads far and wide. Some of Shaqlawa's tourist facilities:
- Shaqlawa hotel.
- Shaqlawa tourist village.
- Tourist camp. 76 beds (two to each tent) with bathrooms and a kitchen.
There are also several privately owned hotels. Visitors for camping may rent parts of the fruit orchards.


GULLY ALI BEG


This is the place of such a striking beauty; one must see it. The gully is a narrow 10km long pass between Mount Kork and Mount Nwathnin, 60 kms away from Shaqlawa. The Mountain View is made even more gorgeous by a fantastic waterfall, which tumbles down from a spot 800 meters high above sea level. A casino restaurant near by and a few trailers for rent.


BEIKHAL WATERFALLS

About 10 kms beyond Rawanduz, the visitor will come across a great roaring waterfall pouring down from mountain tops in a green cool spot thick with trees all around. Accessible by a road built last decade between the Gully and Mount Kork. A small casino for refreshments.


JINDIAN
From Rawanduz it is a short jump to Jindian, another sylvan spot with fresh spring waters. A casino was built as a nucleus for more tourist facilities to be added in the future.


DERBENDI RAYAT
On the way to Haj Omran, about 50 kms from Gully Ali Beg, it has an up-to-date tourist hotel together with other tourist amenities.


HAJ OMRAN

On the northeast boarder, to the east of Mount Hassarost, 69 kms from the Gully's water fall. This summer resort, 1780 meters above sea level, is very cool at night but remarkably temperate by day, with a maximum temperature of 28 C.

BABA GURGUR
The eternal fire at Baba Gurgur, shows how economical is the production of oil in Iraq.


CASTLE OF KIRKUK
One of the eldest extant monuments.

THARTHAR LAKE
One of the most beautiful artificial lakes in Iraq. It was formed after building the Samarra dam, for irrigation and controlling the floods of Tigris and Euphrates. It is reachable from Baghdad via Falouja, Ramadi, or Samarra. Tourists can fish, swim or camp at the lake.